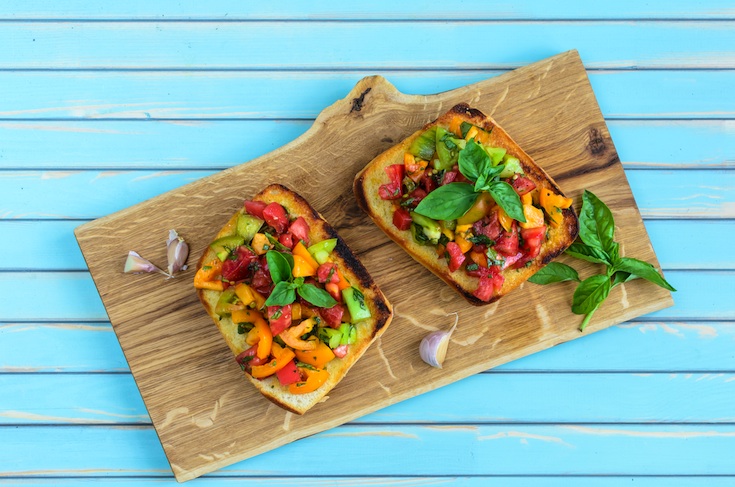 TURKISH BRUSCHETTA
Makes 4
Bruschetta make a fresh light lunch or a tasty starter to a meal with friends or family. Grill our Nomad Breads Turkish Rolls with olive oil and garlic for a crunchy base to your fresh Tomato Bruschetta topping.
Ingredients
3 Nomad Breads Turkish Rolls
1 kilogram of mixed red, yellow and green tomatoes of your choice
1 garlic clove, crushed
1 tablespoon extra virgin olive oil
½ bunch basil, thinly sliced
1 teaspoon salt flakes
¼ cup olive oil
1 garlic clove, sliced in half
Instructions
Preheat an oven grill to Medium.
Dice your tomatoes into 1 centimetre cubes and place in a medium sized bowl.
Remove the basil leaves from their stems. Roll up the leaves and slice them thinly. Add the sliced basil leaves to the tomatoes along with the crushed garlic, extra virgin olive oil and salt. Mix well with your hands or a spoon and set aside.
Lay your Turkish Bread pieces on an oven tray cut side down and grill until toasted.
Remove the tray from the grill and flip the bread so that the cut side is facing up. Using pastry brush, dab over the olive oil, coating the bread surface all over. Return the tray to the oven and gently grill the bread until golden.
Remove the tray from the oven and set aside. Take your garlic clove halves and rub the cut side of the cloves all over the oiled side of the toasted Turkish Bread to impart a delicious garlic flavour and aroma.
Lay your Turkish Bread on a serving platter or wooden board and evenly spoon over the tomato mixture.
Top with a basil leaf and serve straight away.
Notes
You can replace the Nomad Breads Turkish Rolls with a single loaf of Nomad Breads Garlic Turkish Bread – just cut the loaf into three portions and slice lengthways to give you six pieces of Bruschetta.
http://nomadbreads.com.au/turkish-bruschetta/
(Visited 2,160 times, 1 visits today)