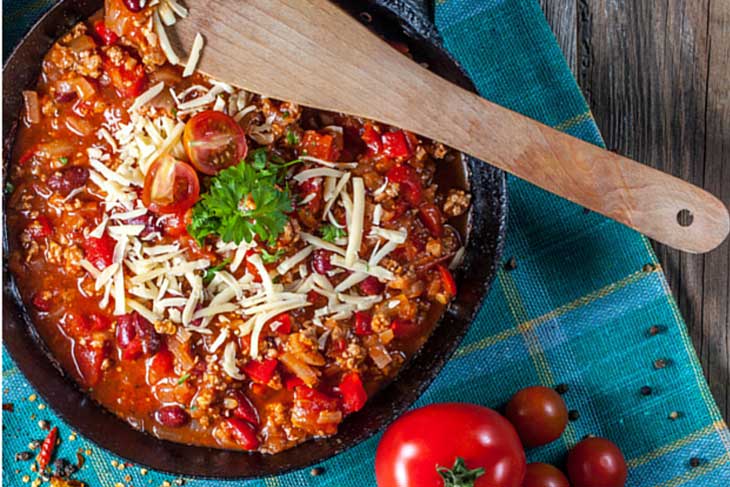 MEXICAN CHILLI BOWLS
Serves 4
Mexican food is bold in colour and flavour and this recipe for Beef and Bean Chilli is no exception. Serve the chilli with a side of guacamole or charred corn on the cob and some warmed Nomad Breads Original Turkish Bread.
Ingredients
1 tablespoon olive oil
750g beef mince
1 brown onion, chopped
1 red capsicum, chopped
2 garlic cloves, crushed
2 x 420g cans red kidney beans, drained and rinsed
2 x 400g cans diced tomatoes
2 tablespoons chilli powder
1 teaspoon ground cumin
1 teaspoon salt
1 teaspoon black pepper
2 tablespoons fresh coriander, chopped
Grated cheese to serve
Instructions
Heat the olive oil in a fry pan over medium heat and cook the onion, garlic and capsicum for a few minutes until soft.
Add the beef mince and continue cooking until all the meat is browned, using a fork break up any lumps.
Add the kidney beans and diced tomatoes and stir to combine. Then add the chilli powder, cumin, salt and pepper and gently bring to the boil.
Reduce the heat to low, cover with a lid and allow to simmer for around half and hour. If the chilli starts to dry, add a little water.
Serve the chilli in individual bowls. Scatter over some grated cheese and fresh coriander.
Notes
You can substitute the beef mince for chicken or turkey mince if you prefer.
http://nomadbreads.com.au/mexican-chilli-bowls/
(Visited 956 times, 1 visits today)