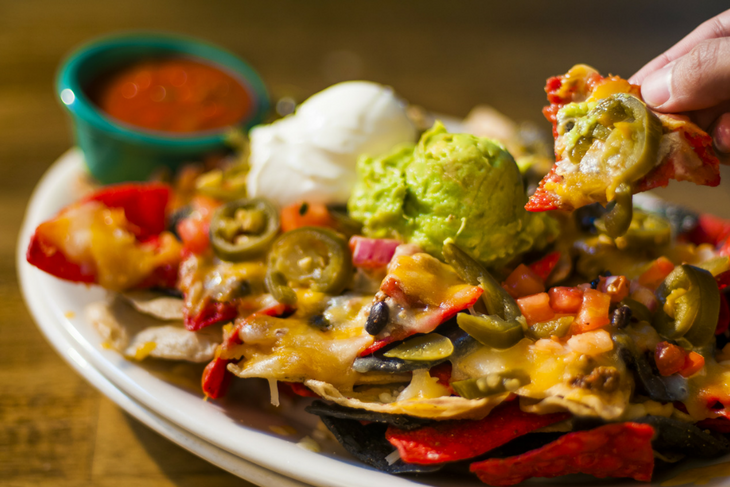 LAVASH NACHOS
Serves 2
Who doesn't enjoy a plate of cheesy, crisp and crunchy Nachos? Our Nomad Breads meat free Lavash Nachos recipe makes a quick and easy snack or supper for two – the only problem is that you won't want to share!
Ingredients
3 pieces Nomad Breads Lavash
olive oil cooking spray
400g can black beans, drained, rinsed
300g jar chunky tomato salsa
jar of jalapeños
1 cup grated tasty cheese
1 avocado
2 tablespoons sour cream, plus additional for serving
1 tablespoon fresh lime juice
salt and pepper
Instructions
Preheat your oven to 160 degrees Celsius.
Using a sharp knife, cut your lavash bread into corn chip shapes.
Lay the lavash shapes on two baking trays lined with baking paper and spray the shapes with olive oil. Cook the shapes in the oven for five minutes until they begin to crisp and turn golden. Carefully turn the shapes with a pair of tongs. Spray with more olive oil and bake for a further 5 minutes. Remove from the oven and set aside.
Peel and chop your avocado. Place the avocado in a small bowl along with the sour cream and lime juice. Using the back of a fork, mash until you reach your desired consistency. Season to taste
To assemble your nachos take an oven proof plate or dish and arrange your lavash crisps on top. Pour over the tomato salsa. Black beans, jalapenos and finish with the grated cheese.
Bake in the oven for 5 – 10 minutes until the cheese has melted.
Serve immediately with a dollop of the smashed avocado dip and extra sour cream.
Notes
You can substitute the black beans with red kidney beans if you prefer.
http://nomadbreads.com.au/lavash-nachos/
(Visited 1,371 times, 1 visits today)