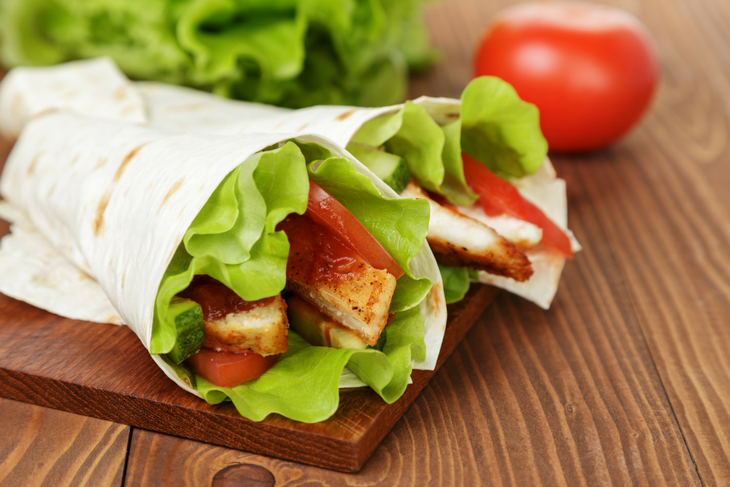 CHICKEN SCHNITZEL WRAP
Makes 4
Chicken Schnitzels are a family favourite. Sliced into strips and wrapped inside a piece of Nomad Breads Lavash with your favourite salads and condiments they make an easy, fuss-free meal.
Ingredients
4 x small chicken schnitzels
Oil for shallow frying
4 pieces Nomad Breads Lavash
Salad leaves, sliced tomato, sliced cucumber
Condiments such as tomato sauce, sweet chilli sauce, mayonnaise and barbeque sauce.
Instructions
In a fry pan, heat the oil and then add two of the chicken schnitzels.
Depending on the thickness of your schnitzels, cook for around 3 minutes each side. Once the schnitzels are cooked through, remove from the pan and set aside to drain on paper towel. Repeat with the remaining two schnitzels.
Prepare your salad ingredients and lay them out on a serving platter or board alongside your preferred condiments. Slice the schnitzels into strips and add them to the platter or board.
Take a piece of Nomad Breads Lavash and layer your wrap ingredients. Start with the salad leaves followed by the other salad ingredients and finish with schnitzel strips and your favourite sauce.
Then wrap and roll and eat!
Notes
You can gently heat your lavash pieces in the microwave or oven prior to serving. If heating in the oven, roll the lavash pieces in aluminium foil first.
http://nomadbreads.com.au/chicken-schnitzel-wrap/
(Visited 2,903 times, 1 visits today)